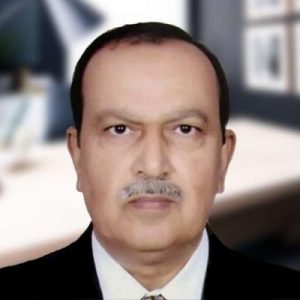 Prof. Pradeep Kumar Bharadwaj
MD (BHU); PhD (Dr, SRR Ayurveda  University)
Chancellor
Chancellor's Message
It is heartening to convey my feelings as Chancellor of Himalayiya University, an upcoming Institute that offers an ideal blend of traditional wisdom with modern amenities.
Himalayiya University isa premier Institute that is committed to providing an international environment to students across Uttarakhand and beyond.
I feel immense pride in welcoming all the students of undergraduate, and postgraduate programs at this unique University which is situated near the Holy River Ganges at the foothills of Himalayiya.
The University offers programs in the streams of Science, Engineering, Management, Humanities and Medical Sciences. It is continuously making progress towards achieving milestones and contributing toward nation-building.
Himalayiya University provides an ideal environment for students to learn academics as well as develop their personality, and leadership skills to help them be better citizens of tomorrow. The University has a highly technical team of faculty and staff committed to providing quality education.
Chancellor's Profile
Prof Pradeep Kumar Bharadwaj is the Chancellor of Himalayiya University and Chairman of Himalayiya Ayurveda, Yoga Evam Prakratik Chikitsa Sansthan, Dehradun, Uttarakhand, India. He received PhD in Ayurveda from Dr. S. R. Rajasthan Ayurveda University, Jodhpur, Rajasthan; MD in Ayurveda from Banaras Hindu University, Varanasi, Uttar Pradesh, India; BAMMS (Bachelor of Ayurveda with Modern Medicine & Surgery) from University of Lucknow, Uttar Pradesh.
Prof Pradeep Bharadwaj has vast experiences in Administration, Research and Teaching. He served as Director / Dean, Himalayiya Ayurvedic Medical College & Hospital, Dehradun; Principal & Superintendent and Professor, Rishikul Government Post-Graduate Ayurvedic College & Hospital, Haridwar; Dean, Faculty of Ayurveda, H.N.B. Garhwal University, Srinagar; Professor, Shalya Tantra (Surgery), Institute of Medical Sciences, Banaras Hindu University, Varanasi. He was awarded and honoured with many fellowships such as Saraswat Samaj Seva Samman by Vishwa Ayurveda Parishad; Honour of Fellowship by All India Sharir Research Institute, Lucknow; Vaidya Shiromani Award for Education & Patient Care in Ayurveda by PDIA Rishikesh, Uttarakhand; Ayurveda Martand Award for Ayurvedic Education & Healthcare by All India Ayurvedic Specialist Association.
He has guided more than 30 MD/MS (Ayurveda) scholars, five PG Diploma and four PhD. He has published several research papers in international and national journals and contributed five book chapters in reference books of international repute. He was invited to attend and deliver lectures in international and national conferences, seminars and workshops and he served as a resource person and session chair. He organized five international seminars and conferences as organizing secretary. He has attended more than fifteen academic and professional training programs include Hospital Management Training at NIHFW, New Delhi; Enhancing Managerial Effectiveness at Administrative Staff College of India, Hyderabad; Financial, Office & Administrative Training at Uttarakhand Academy of Administration, Nainital; Need Assessment Workshop for Designing 3-Tier Training Program for AYUSH Sector at IMDC, IIM, Ahmedabad. He has been actively performed many operative procedures which include Appendectomy, Suprapubic Cystolithotomy, Herniotomy with Herniorrhaphy, Hernioplasty, Eversion of Sac, Mayos Plasty, Haemorrhoidectomy, Fistulectomy, Anal Sphincterotomy, Fibroadenoma Breast, Breast Abscess, Partial Mastectomy, Pilonidal Sinus, Cystectomy, Ovarian Cyst Removal, Vasectomy, Tubectomy, I/D Cystoscopy, Lubuloplasty, Ligation of Ksharsutra, Circumcision; Anaesthesia: GA (Sod. Pentothal and Ether); Spinal Anaesthesia; Local Infiltration Anaesthesia.