Our Leadership Team
Message from the Desk of Chancellor
It is heartening to convey my feelings as Chancellor of Himalayiya University, an upcoming Institute that offers an ideal blend of traditional wisdom with modern amenities.
Himalayiya University isa premier Institute that is committed to providing an international environment to students across Uttarakhand and beyond.
I feel immense pride in welcoming all the students of undergraduate, and postgraduate programs at this unique University which is situated near the Holy River Ganges at the foothills of Himalayiya.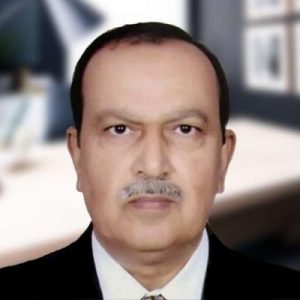 Dr. Pradeep Bharadwaj
Chancellor M.D. (Ay),
IMS, BHU, PhD. CCIYP, ACMS TFC (FPAI), Mumbai
The University offers programs in the streams of Science, Engineering, Management, Humanities and Medical Sciences. It is continuously making progress towards achieving milestones and contributing toward nation-building.
Himalayiya University provides an ideal environment for students to learn academics as well as develop their personality, and leadership skills to help them be better citizens of tomorrow. The University has a highly technical team of faculty and staff committed to providing quality education.
Message from the Desk of Vice Chancellor
Working together, we aim to bring a lasting and positive result through our learning, teaching and research. Himalayiya University is an excellent place to learn, find, experiment and shape the world. We try to give each curious soul the best knowledgeable solution and make them better citizens for the Nation to develop on the whole.
The Himalayiya University was established by Uttarakhand State Government as a State Private University in 2019 and since then it has been providing quality education to the students. The motto of our university is to Arise,be Aware and don't stop till the goal is reached.
Dr. J. P. Pachauri
Vice Chancellor M. A., Ph.D (Sociology)
Our aim is to provide job oriented innovative courses so that our students can easily be absorbed in the job market. Our focus is also to create a knowledge bank of Academicians, Industrialists, Entrepreneurs, Bureaucrats, and Non-Govt. Organisations etc. We will also have linkages with national and foreign Himalayan institutes and universities for collaborative research.
A university is a place where we create, discover, conserve and distribute the Knowledge. I am very happy to say that this university is a place, where all the stakeholders have a free and conducive environment for teaching, learning, research and extension."The Value of education is not only learning many facts but training the minds to think," Says Albert Einstein. I am sure that with the dedicated efforts of our faculty and staff, we will be able to train our young minds in a positive way so that they can contribute to the development of the Himalayan region.
I am confident that the vast pool of Human recourses present in the university will be able to contribute to and enlightenthe students, and community.
Good Luck and Best wishes to all.
Message from the Desk of Pro Vice-Chancellor
Himalayiya University, Dehradun (Uttarakhand) started in the year 2019 is a premier institution of higher learning that offers a variety of courses from graduate to doctoral scale covering an entire spectrum of cutting-edge technologies in the fields of Engineering, Commerce and Management, Medical & Health Science, Pharmaceutical Sciences, Education, Hospitality and Hotel Administration, Media and Design among others. The University has been established to provide a quality educational experience to students from different backgrounds and to impart competitive abilities along with industrial expertise to students.
Dr. Rajesh Naithani
Pro Vice-Chancellor
We, at Himalayiya University, Dehradun always keep our students at the centre and intend to impact and transform their lives. The university continuously aspires to create a platform for creative ideas and openness in thought and action. The university yearns to make students as responsible citizens of the nation who can work for societal upliftment. We are committed to excellence in teaching and quality research at par with the best in the nation.
We at Himalayiya University, Dehradun intend to intensify our endeavours to mobilize more resources and create a conducive ambience for our faculty, students and staff to actualize their potential. The university intends to pursue a multi-stakeholder consultation approach, in which students, their parents, teachers and staff, employers and alumni play a meaningful role. We have a mammoth task of employing higher education as a means of attaining peace and development for all.
I urge everyone to join us in fostering a healthy, peaceful and engrossing atmosphere at the university campuses. We invite students and faculty to join us in our journey of making the university the best place to learn and work.
Best wishes!