July 17, 2023
Posted by:

hu-admin

Category:

Blog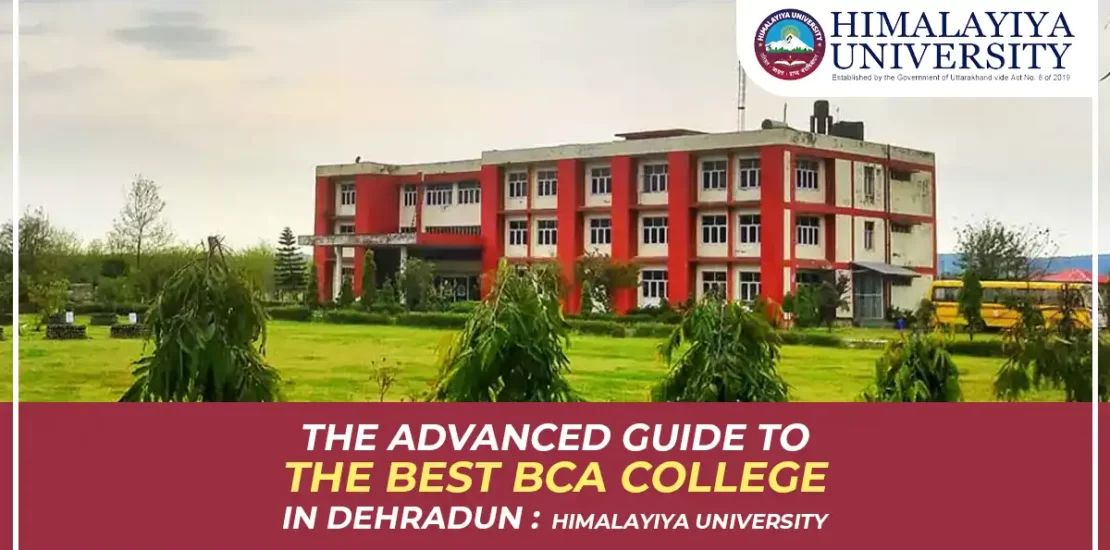 Exploring the Best BCA College in Dehradun:
Introduction: Dehradun, the capital of Uttarakhand nestled in the foothills of the Himalayas, has emerged as a prominent educational hub in recent years. The city is known for its picturesque landscapes, serene environment, and high-quality education. In the picturesque city of Dehradun, Himalayiya University stands tall as a premier institution offering exceptional education in the field of Bachelor of Computer Applications. Renowned for its State-of-the-Art facilities, Experienced Faculty, and Comprehensive Curriculum, Himalayiya University has emerged as the best BCA college in Dehradun. 
A Legacy of Academic Excellence: 
Himalayiya University a top choice for aspiring BCA course, offers a blend of theoretical knowledge and practical skills, enabling students to develop expertise in designing and implementing computer-based solutions. Students will have the opportunity to explore different programming languages, such as Java, C++, and Python, and learn how to create efficient and secure software applications.
This BCA course focuses on enhancing analytical and problem-solving abilities, as students learn to develop logical thinking and apply computational methods to real-world challenges. The BCA course curriculum is regularly updated to keep pace with emerging technologies and industry trends, ensuring that students are equipped with the latest knowledge and skills required in the dynamic field of computer science.
Experienced and Accomplished Faculty :
At Himalayiya University, BCA course faculty members are highly qualified and experienced in their respective fields. The faculty members bring the Knowledge and real-world experiences in the classroom ensuring students receive a holistic and practical education. The faculty members in Himlayiya University are dedicated mentors who go above and beyond to support their students, academic and professional growth. The Bachelor of Computer Applications (BCA) is an undergraduate degree program that focuses on computer applications and software development. BCA course for students who are interested in pursuing a career in the field of computer science and information technology. The faculty members provide personalized attention and guidance, nurturing and conducive learning environment to students to thrive. They also bring a wealth of industry experience, ensuring that students receive relevant and up-to-date knowledge. The faculty members are not only proficient in imparting theoretical concepts but also actively engage students in discussions, problem-solving, and critical thinking.
State-of-the-Art Facilities:
Himalayiya University boasts state-of-the-art facilities that create an optimal learning environment for BCA course students. BCA College generally have well-equipped computer labs with the latest hardware and software, enabling students to gain practical experience in programming, software development, and other practical aspects of the BCA program in technical areas.  These labs are equipped with the latest hardware and software necessary for practical sessions and programming assignments. The University also invests in modern technology and software tools, enabling students to stay updated with the latest advancement in the industry. The campus provides a serene and stimulating atmosphere, conducive to academic pursuits.  Additionally, the University library offers an extensive collection of books, journals, and online resources to support research and enhance the learning process. The campus also provides high-speed internet connectivity, allowing students to stay updated with the latest technological advancements.
Industry Collaboration and Experiential Learning:
One of the Key factors that set Himalayiya University apart as the best BCA college in Dehradun is its exceptional placement and career support services.   The University has a dedicated placement cell that actively works to connect students with reputable IT companies. They organize recruitment drives, conduct mock interviews, and help students prepare for job opportunities in the IT companies. The strong industry connections fostered by Himalayiya University ensure that students have ample opportunities for internships and job placements, laying a strong foundation for their careers.
Holistic Development and Co-Curricular Activities:
Himalayiya University believes in the holistic development of its students. Apart from academics, BCA course emphasize extracurricular activities to promote holistic development. They may have sports facilities, cultural clubs, student organizations, and events that encourage students to participate in non-academic pursuits. These activities promote teamwork, leadership skills, and innovation, preparing students for the competitive IT companies. The University also organizes cultural events, sports tournaments, and clubs, fostering a vibrant and inclusive campus life.
Conclusion:
The best university in Uttarakhand for higher education has rightfully earned its reputation as the best BCA college in Dehradun. Its commitment to academic excellence, experienced faculty, state-of-the-art facilities, industry collaboration, robust placement and holistic development make it the ideal destination for aspiring BCA students in Dehradun. The University's emphasis on practical learning, industry exposure, and comprehensive curriculum equips students with the skills and knowledge necessary for a successful career in the field of computer applications. By choosing Himalayiya University, students can embark on a transformative educational journey that not only nurtures their technical capabilities but also molds them into well-rounded individuals ready to thrive in the IT companies. Therefore, it's recommended to research and explore individual college websites or prospectuses to gather detailed information about the facilities they offer for BCA course.