September 1, 2023
Posted by:

hu-admin

Category:

Blog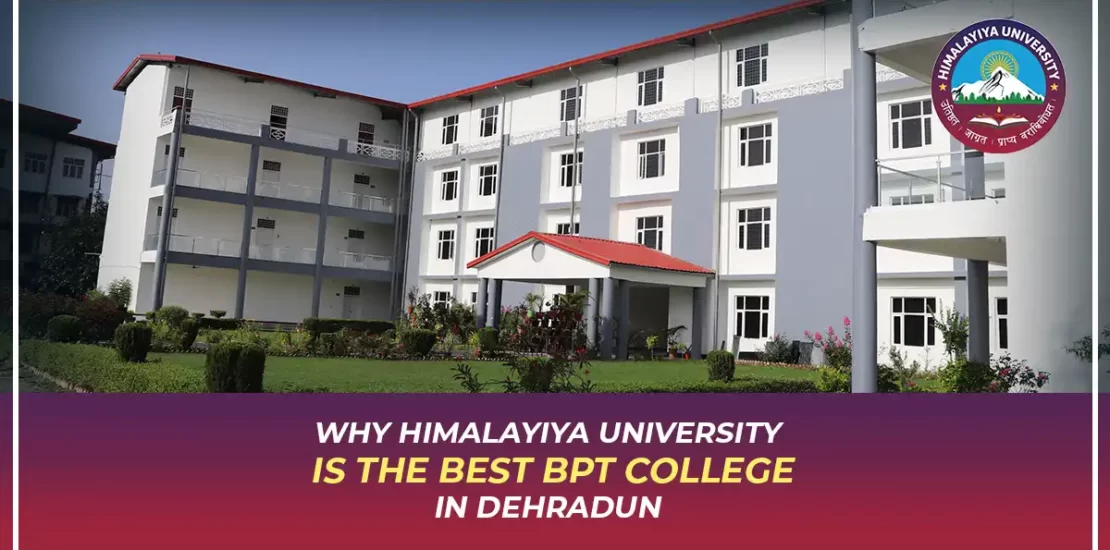 Himalayiya University is one of the best colleges for Physiotherapy programme in Uttarakhand. The college is situated in the beautiful and pollution-free environment. The entire campus is surrounded by lush vegetation and is covered in trees and herbs.  In the heart of the picturesque city of Dehradun lies an institution that has earned a well-deserved reputation as the best destination for pursuing a Bachelor of Physiotherapy (BPT) degree. With its commitment to academic excellence, state-of-the-art facilities, and a holistic approach to education, Himalayiya University stands tall as a beacon of quality education in the field of physiotherapy
Academic Excellence
Himalayiya University, BPT Course is designed to provide students with a comprehensive understanding of the human body, its mechanics, and the principles of physical therapy. The curriculum is meticulously crafted to combine theoretical knowledge with hands-on practical experience, ensuring that students are well-prepared to meet the challenges of the field.
The Department of Physiotherapy aims to be a Centre of Excellence and deliver high-quality
Teaching – Learning in the areas of Paramedics. We teach our students to be technical specialists and work with healthcare providers to provide society with better healthcare.
Faculty 
Himalayiya University is pillared by extremely dynamic faculty members. They are involved in teaching regularly scheduled academic lectures that include theory, real-world experience, evidence-based practice, and research. The faculty has a varied background of teaching and clinical experience from premier institutes, hospitals and rehabilitation center.
Hiamalyiya University have a highly competent team of faculty with a combination of both clinical & academic, who not only provide theoretical knowledge but also empower students with applied skills such as field postings, patient interactions, training in simulated environments to deal with invasive procedures exposure to critical patients, etc.
The University boasts a team of highly qualified faculty members who bring a wealth of experience and expertise to the classroom. Their guidance helps students grasp complex concepts, develop critical thinking skills, and stay updated with the latest advancements in the field of physiotherapy.
State-of-the-Art Facilities
One of the defining features that set Himalayiya University apart is its world-class infrastructure. The university is equipped with modern laboratories that are well-stocked with the latest equipment needed for hands-on training. These labs provide students with a platform to apply theoretical knowledge in real-world scenarios, enhancing their practical skills and confidence.
The campus also includes a dedicated physiotherapy clinic where students can gain practical experience by treating actual patients under the guidance of experienced faculty members. This exposure not only builds their clinical skills but also nurtures qualities like empathy and effective communication – crucial traits for any healthcare professional.
Holistic Approach to Education
At Himalayiya University, education goes beyond the classroom and textbooks. The university emphasizes a holistic approach to learning, focusing on the overall development of students. Physical therapy is not just a science; it's an art that requires a deep understanding of human psychology, empathy, and cultural sensitivity.
Through various extracurricular activities, workshops, and seminars, Himalayiya University ensures that students develop into well-rounded individuals who are not only adept at their profession but also capable of making a positive impact on society. The university also encourages research and innovation, fostering an environment where students can contribute to the growth of the field.
Industry Partnerships and Placements
Himalayiya University recognizes the importance of connecting classroom learning to real-world applications. To bridge this gap, the university has established strong ties with leading healthcare institutions and hospitals. These partnerships not only provide students with opportunities for internships and practical training but also open doors to potential employment upon graduation.
The university's strong placement record speaks volumes about the quality of education it offers. Graduates of Himalayiya University, BPT course are highly sought after by healthcare organizations, both nationally and internationally, thanks to their well-rounded education and practical experience.
Affiliation
The physiotherapy department is affiliated with Uttarakhand Paramedical Council.
Conclusion
In the realm of Physiotherapy education, Himalayiya University stands as a shining example of excellence. With its rigorous academic curriculum, top-notch facilities, emphasis on holistic development, and industry connections, Himalayiya University provides students with all the tools they need to succeed in the dynamic field of Physiotherapy. As the premier BPT college in Dehradun, Himalayiya University continues to shape compassionate, skilled, and knowledgeable Physiotherapy professionals who are ready to make a difference in the world of healthcare.